The graphene revolution in the automotive industry:
innovation in vehicle care and protection
Just as continuous exposure to solar radiation is harmful to our skin, it also affects the appearance of cars, in particular it causes damage to paint, moldings, tires and other auto parts. In fact, the sun, acid rain and temperature changes are three of its main enemies, for that reason there are countless product options on the market for its care.
Graphene is the most interesting form in which Carbon can occur and consists of sheets of carbon atoms extracted mainly from Graphite or from some gases. The great scientific and technological relevance of this material is due to the particular organization of its atoms, which gives it surprising and numerous properties that have captured the attention of a large number of industries, including the automotive industry.

The potential uses attributed to Graphene for this industry are the manufacture of coatings for chassis and bodies, plastics for auto parts, either to improve their quality or to totally or partially replace metal parts, tires, textiles, greases, lubricants and products for car care.
Energeia- Graphenemex® dedicated to the research and production of graphene materials as well as the development of applications at an industrial level, in 2018 under the Nanocar® brand, placed on the market the first line of products with Graphene for automotive care.
Benefits:
Nanocar® products form a protective and nano-filling film for defects that allows the atomic sheets of Graphene to adhere to the surfaces of the bodywork, protecting against dust and moisture, delaying the effects of corrosion, as well as acting as a barrier against UV radiation and as a temperature dissipator to limit the long-term deterioration of the paint. In addition, the continuous use of Nanocar® products facilitates subsequent cleaning, without leaving a trace of drying, even when washing is carried out with hot surfaces.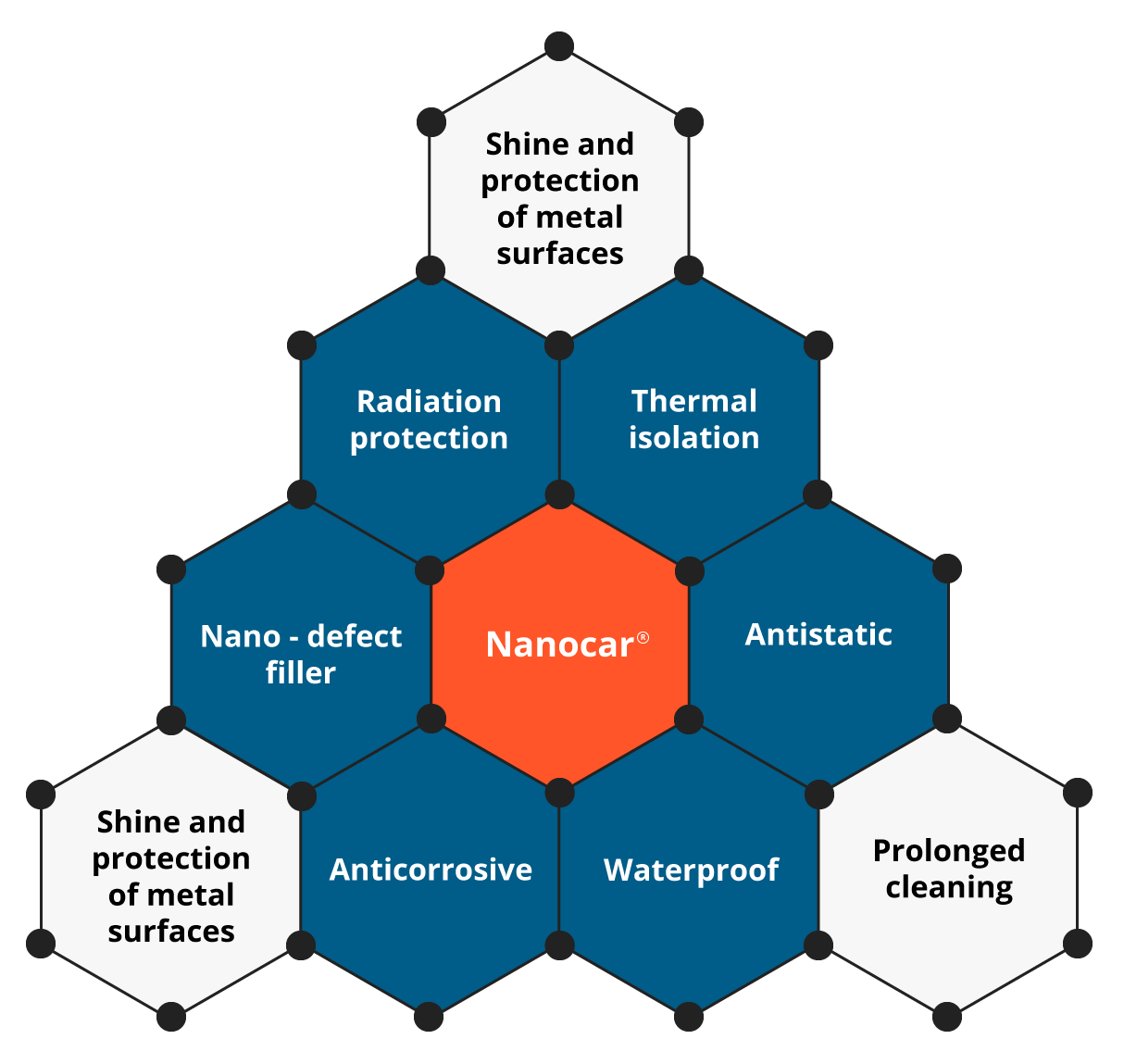 Relationship of the properties of Graphene and its effects on Nanocar® products
Drafting: EF/DHS